Leupold DeltaPoint Pro Reflex Red Dot Sight
By Chuck Hawks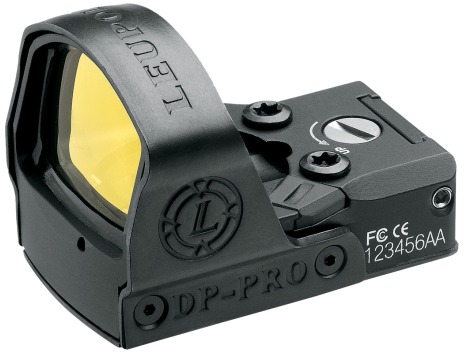 BX-4 McKinley HD 10x42mm Binocular. Illustration courtesy of Leupold & Stevens, Inc.
Guns and Shooting Online recently requested a Glock 40 Gen4 MOS 10mm Auto Pistol for a full review. MOS stands for Modular Optical System and it means that this particular Glock pistol comes with dedicated plates for mounting most popular reflex sights.
The G40 is marketed primarily as a hunting and field pistol, so a red dot sight makes a lot of sense. It is certainly easier and more accurate to put a red dot, which is in the same optical plane as the target, where you want your bullet to go than it is to align a front sight blade in a rear sight notch with the target, all three of which are in different optical planes (distances from the eye).
Mounting an optical sight on top of the slide of an autoloading pistol is not always the best idea. The sight has to survive not only the recoil of the pistol, but also the acceleration and deceleration of the slide as it operates. This is a very demanding requirement, particularly in the case of a 10mm pistol. The 10mm Auto is the most powerful of the reasonably popular and common auto pistol cartridges, roughly equivalent to the .357 Magnum revolver cartridge.
I have, in the past, had the recoil of .357 Mag. hunting revolvers shake apart red dot sights, and there is no moving slide on a revolver. Hence, I knew a sight for the G40 had to be extremely rugged and reliable.
In a circumstance such as this, Leupold comes to mind first. Leupold scopes and red dot sights are world renowned for their performance and durability. If you need an optical sight that will absolutely, positively get the job done, you can't do better than a Leupold.
Leupold & Stevens is a fifth generation, family owned company that has been in continuous operation since 1907 in the Portland, Oregon USA area. The Leupold plant has been at its present location in Beaverton, Oregon (a Portland suburb) for over 45 years.
Leupold recently introduced a new (for 2016) red dot sight, the DeltaPoint Pro reflex sight. Reflex sights are those open, "heads-up" type sights without a tube housing. They are minimalist optical sights, about as small and light as an optical sight can be and thus, I figured, perfect for the recoiling slide of the G40.
I requested a new DP-Pro #119688 sight with a 2.5 MOA red dot from our friends at Leupold. Like Leupold riflescopes, the DeltaPoint Pro reflex sight is designed, machined and assembled in the USA.
The DP-Pro arrived very securely packaged in a small Leupold box completely filled with a block of closed cell foam with cut-outs for the sight itself, battery, sight cover and mounting screws plus Torx wrench. The enclosed instruction sheet clearly explains the sights operation, installation, bore sighting, product warrantee and available accessories. Here is a list of its advertised features and specifications.
Features
DiamondCoat scratch resistant aspheric lens for brightness and resolution
Motion Sensor Technology (MST) to conserve battery life
Extremely durable, ultra light aluminum housing
Small size and lightweight
Unlimited eye relief
For use on handguns, rifles and shotguns
Wide field of view
Blackened lens edges
Waterproof to 33 feet
Leupold Gold Ring Full Lifetime Warranty (housing and optics)
Leupold Gold Ring 2 year Electronics Warranty
Specifications
Product #: 119688
Magnification: 1.0x
Sight window: 1.01 in. by 0.68 in.
Windage and elevation adjustment range: 60 MOA
Adjustment click value: 1 MOA (40 MOA per revolution of adjustment)
Subtension of red dot: 2.5 MOA
Operating temperature range: -20F to +120F
Storage temperature range: -40F to +160F
Battery: One 3v, CR 2032 lithium cell
Dimensions: 1.82 in. x 1.31 in. x 1.30 in.
Weight: 1.9 oz. (with battery)
Country of origin: USA
2016 MSRP: $779.99
Mounting the DP-Pro to the Glock 40 MOS is very easy. A set of four optical sight mounting plates is included with the G40 MOS, which cover the most popular brands of reflex sights. You just remove the cover plate from the top of the pistol's slide and replace it with the appropriate optical sight mounting plate, in this case #08 for Leupold. The DP-Pro then mounts directly to the Glock mounting plate. It is not necessary to remove the Glock's factory rear sight.
If your chosen handgun is not a Glock MOS model, Leupold offers accessory mounting bases for S&W revolvers and a variety of popular brand/model autoloading pistols. They also offer a reversible cross-slot mount for Weaver/Picatinny bases. See www.leupold.com for mounting details and options.
Installing or replacing the battery does not require removing the sight from its mount, so your sight's zero is not affected. You turn the DP-Pro on by briefly depressing the power button. This is located on the top of the sight, directly behind the sight's projection/viewing glass and over the battery compartment. To turn the sight off, you depress and hold the power button for at least three seconds. (I give it a slow five count.) When turned back on, the red dot returns to the previously set brightness level.
The power button is also used to change the intensity of the projected red aiming dot. Once the sight is on, each brief press of the button cycles the intensity of the red dot through its eight brightness settings. These accommodate sighting in total darkness, standing in full bright sunlight and all ambient light levels in between.
The DP-Pro has a unique low battery indicator. This feature flashes the red dot 10 times when the battery power is low. The operator will still have several hours of operating time in this mode before the battery dies completely.
Another feature worth a brief explanation is the Motion Sensor Technology. This conserves battery life by switching the unit to stand-by mode when the power is left on, but the gun has not been moved for at least five minutes. Any movement will turn the sight back on. Of course, when you are finished shooting, you should turn the DP-Pro off to maximize battery life.
You do need to keep your eye aligned with the optical axis of the sighting glass to see the red dot. Since there is no optical tube with which to align your eye, this is not as automatic as you might suppose. I found the fastest way to find the red dot was to estimate aligning the pistol's iron sights and then look through the sighting glass to see the red dot.
With the DP-Pro mounted, it was time to head to the range to find out how it works from a bench rest at 25 yards. For test ammunition, I used full power SIG Sauer Elite 180 grain FMJ factory loads, MV 1250 fps. This pistol had averaged 2.25 inch bench rest groups at 25 yards with this load using the factory iron sights.
Shooting Results
SIG 180 gr. FMJ: Smallest group 1-1/8 in.; largest group 1-5/8 in.; average group size = 1.33 inches
These results speak for themselves and illustrate the improvement in aiming precision a good red dot sight provides. In addition, I am sure the groups from the G40 would have been even smaller were it not for its heavy, creepy trigger with excessive over-travel. Even with a 3.5 pound connector, the G40 has the worst trigger pull I have yet encountered in a Glock pistol.
Sighting-in the G40 with the DP-Pro was easy, due to the little Leupold's accurate, 1 MOA, windage and elevation adjustments. During this same trip to the range I was sighting-in a SIG P220 Match Elite Reverse Two-Tone 10mm Auto pistol with aftermarket adjustable iron sights and the contrast in ease of use was striking.
The Leupold DeltaPoint Pro withstood the recoil and slide velocity of full power 10mm Auto loads without missing a beat. Everything worked as advertised, including the Motion Sensor Technology.