Meopta MeoPro 80 HD Spotting Scope
By Chuck Hawks and the Guns and Shooting Online Staff
Illustration courtesy of Meopta USA, Inc.
"A better view of the world" is Meopta's slogan. It is printed on the handsome blue box in which our test spotting scope was shipped and repeated on the Meopta website (www.meopta.com).
Meopta is not a household name in most of North America, which is undoubtedly why Meopta USA, Inc. asked Guns and Shooting Online to review one of their spotting scopes. Lacking experience with Meopta products, despite their established reputation in Europe, we readily agreed.
Perhaps a brief history of the Company is appropriate for those not familiar with Meopta. Optikotechna Company was established in Prerov, Czechoslovakia in 1933, where Meopta remains to this day. Initially, they produced enlargers, enlarging lenses and other darkroom equipment. By 1935 they were producing optics for the Czechoslovakian Army. Czechoslovakia was occupied by Germany shortly before the beginning of the Second World war and during that conflict Optikotechna was forced to produce optics for the Nazi war machine.
After the war, Czechoslovakia was occupied by the Red Army and found itself behind the Iron Curtain. In 1946 the Company name was changed to Meopta and by 1947 the production of enlargers and projectors had been resumed. During the 1950s, award winning cameras were added to the Meopta line and by 1971 Meopta was heavily engaged in military production for the Warsaw Pact nations. In 1988, riflescopes were added to the product line as military production tapered off, ceasing in 1990 as the Communist bloc disintegrated.
By 1992 Meopta was fully privatized and the modern age as the largest optical producer in the Czech Republic had begun. Today, Meopta has state of the art manufacturing and assembly facilities in New York, USA and Prerov, Czech Republic. The 80 HD MeoPro spotter that is the subject of this review, for example, was assembled in the US.
Refracting spotting scopes, like our Meopta test scope, are an interesting segment of the sport optics market. They are small, portable telescopes, essentially half of a giant binocular, with the advantages and drawbacks that implies. They lack the viewing comfort and the advantage of binocular vision, but are only half as big as an equivalent binocular. They lack the light grasp and ultimate optical performance of a serious astronomical telescope, but are much smaller, more compact and more durable. In other words, spotting scopes generally sacrifice a number of desirable qualities to achieve a more compact package. Portability is the name of the game and suitability for use in the field the goal.
Spotting scopes are traditionally achromats with doublet objectives, which means that some color fringing is inevitable. (True apochromats require a heavier and more expensive triplet objective lens system to focus all three primary colors of light to the same point.) Intended for terrestrial observing, spotting scopes incorporate a prism system to provide a right side up, correctly oriented image. Variable magnification (zoom) eyepieces are very popular in spotting scopes these days and the 80 HD MeoPro has a 20x to 60x magnification range.
In order to keep bulk to a minimum, most spotting scopes are supplied with 50mm to 60mm objective lenses. (Big objective lenses are heavy and require commensurately larger main tubes and, in addition, larger and heavier tripods to support them.) The large 80mm objective lens of the aptly named Meopta 80 HD immediately got our attention, along with its substantial weight. Significantly, a full size Meopod TP-1 tripod was shipped along with the scope.
This is a heavy spotting scope. You are probably not going to want to carry it in your range bag and it probably would not fit, anyway. It makes the big Vanguard Endeavor HD 65mm and Sightron SII 63mm spotting scopes previously reviewed on Guns and Shooting Online seem svelte.
The MeoPro 80 HD comes with a 45-degree angle eyepiece assembly. This allows the scope to sit lower when mounted on a free standing tripod, such as the TP-1 provided with our test scope. Conversely, it makes aiming the scope somewhat more problematical, since the viewer is not looking straight through the optic. There is an aiming element (a tiny, solid rubber cylinder molded into the rubber armored body just behind the pull out lens hood) to assist pointing the scope. This is so imprecise as to be useless, not to mention that was mis-aligned, pointing well above the optical axis of our test scope.
MeoPro 80 HD Features
Schott optical glass lens elements are ground and polished in-house and matched to maximize performance, especially in twilight viewing conditions.
Rubber armored magnesium and aluminum body.
MeoBright fully multi-coated optics deliver an industry leading 99.8% light transmission per lens surface.
MeoShield coating on external lens surfaces for enhanced resistance to scratching and abrasion.
High definition, extra low dispersion fluoride objective lens element reduces chromatic aberration (color fringing) and increases resolution, contrast and color fidelity.
CentricDrive mid-body focusing ring is easy to use, even when wearing heavy gloves.
The rotating tripod collar allows a smooth 360-degree rotation of the scope body for viewing in any orientation and locks securely in place. The low profile mounting foot directly engages Manfrotto type tripod heads and features a 1/4x20 thread to accommodate standard photo tripods.
Integral, pull out sun shade (lens hood).
45-degree angle, 20x-60x variable magnification eyepiece with twist-up eyecup.
100% guaranteed waterproof, submersible and fully protected against humidity, rain and snow.
Purged and sealed with inert Nitrogen gas to provide 100% guaranteed fogproof performance.
Supplied accessories include a User Manual, lens caps, cleaning cloth and iPhone 4/4S photographic adaptor.
North American Lifetime transferable Warranty.
MeoPro 80 HD Specifications
Part number: 598880
Magnification range: 20x - 60x
Objective lens: 80mm
Optical elements: 8
Daylight light transmission: 91% max. (80% typical)
Exit pupil diameter: 4.05mm (20x) to 1.4mm (60x)
Field of view (degrees): 2 (20x) to 1.2 (60x)
Apparent field of view (degrees): 40 (20x) to 65 (60x)
Eye relief: 18.5mm
Close focus distance: 19.5 feet
Eyepiece outside diameter: 57mm
Length: 14.36 inches
Weight: 68 ounces without eyepiece
Warranty: Lifetime, transferable
Country of Origin: Assembled in USA
2018 MSRP: $1,839.99 (approx. $1,600 discounted)
Physically, the MeoPro 80 HD is obviously a high quality product. Its rounded contours are pleasing to the eye. All controls and adjustments operate smoothly. Its rigid, magnesium alloy body inspires confidence and its OD green and black rubber armored finish both looks and feels good. The interior of the scope has been comprehensively blackened with a flat black finish. The built-in lens hood and twist-up eyecup are useful features that we appreciate. The rotating, locking tripod collar is another nice touch, allowing comfortable viewing through the 45-degree angled eyepiece when the tripod is not level or the viewer is not directly behind the scope.
Due to its 45-degree angled eyepiece, we found the MeoPro 80 HD more comfortable to use on a free standing tripod than on a table top tripod. (It would take a very husky table top tripod to stabilize the MeoPro 80 HD!) Shooters looking for a spotting scope to use on a shooting bench will probably prefer easier to aim straight through viewing.
The tripod mounting shoe is properly located at the scope's balance point. It is equipped with a removable 1/4x20 thread mounting adaptor to allow its use on any standard photo tripod. Unscrew the 1/4x20 adaptor and the socket is threaded to accept the larger 3/8 inch mounting screw often found on large, professional photo tripods.
The CentricDrive focusing is fast and smooth. However, the lack of a fine focus adjustment is a disadvantage, especially when the magnification exceeds 30x. The unusually close minimum focusing distance of just under 20 feet is more than sufficient.
The zoom ring is marked 20x, 30x, 40x, 50x and 60x. It is commendably smooth and continuously varies the magnification between the minimum and maximum settings. However, it is easy to rotate the zoom control past the click stops at its minimum and maximum settings. This over-rotation does not change the magnification at either end, but it renders the magnification settings printed on the zoom ring meaningless, as they no longer line up with the triangular index mark on the left side of the scope body. Take care not to rotate the zoom ring past its 20x and 60x click stops.
The atmospheric conditions during our visual testing of the MeoPro 80 HD were excellent. It was a partly sunny June day with an ambient temperature of 69-degrees F. It had rained the night before (not unusual in Western Oregon, even in the summertime), leaving the air about as clear as it gets. We could not reasonably ask for better viewing conditions.
Our test subject, as usual, was fir tree needles at a laser measured distance of 74 yards. (We live in Oregon, so what do you expect us to use as a test subject?) Fortunately, fir trees provide plenty of detail and are a good, practical test of resolution, contrast and color fidelity.
The MeoPro 80 HD provides good imaging, roughly comparable to other four-star spotting scopes that we have used. (As you might expect from its substantial price, it blows the economy scopes typically sold at big box stores out of the water.) Colors are accurately rendered. Resolution and contrast in the central part of the field of view are about average for a deluxe spotter. The edge sharpness is very good. There is a noticeable fall-off in optical performance, particularly contrast, as the magnification is increased, a fault typical of zoom oculars and not unique to the MeoPro.
The best views are seen at the minimum magnification of 20x, which was more than adequate for our 74 yard viewing distance. At 20x, resolution, contrast and general visual snap were all good. We found the 40x setting provided about the optimum maximum magnification for resolving fine details at this distance. The overall rendition was somewhat inferior to 20x, but the increased magnification compensated for the decreased contrast. The 50x and 60x settings provide higher magnification at the cost of progressively reduced contrast, a smaller field of view and no real advantage in the scope's ability to reveal fine detail, not to mention a very shallow depth of field.
At 60x, the scope was difficult to focus accurately and a fine focus control was sorely missed. Given the favorable viewing conditions, we could only conclude that magnifications much above 40x are unlikely to be used often by critical observers, despite the scope's very large 80mm objective lens. (We know, magnification sells and big objectives look impressive.)
Lens flare was well suppressed by the MeoBright ion-assisted lens multi-coatings. Some residual color fringing was noted, but it was minimal, thanks to the Fluoride objective lens. Coma/spherical aberration was not noticeable in daylight, but rendered point light sources as little commas at the edge of the field of view at night. This is typical of spotting scope optics and nothing to worry about. Only the finest camera lenses (Leica, for example) and fine, apochromatic astronomical telescopes will pass this visual test.
The TP-1 spotting scope tripod that accompanied our MeoPro 80 HD is a substantial unit about size and strength of the Bogen/Manfrotto Model 3220 leg set we have used for years. It is not inexpensive, with a Cabela's 2014 retail price of $299.99. Features include three section legs with quick locks, swing out (four position) legs for easy use on uneven terrain or at low angles, a bubble level and a friction lock center column with a hook on the bottom to accommodate additional stabilizing weights.
The 15-5/8 inch long center column is built in two sections that thread together. The lower (longer) section can be removed to accommodate low angle viewing when the legs are fully spread.
The maximum height is a more than sufficient 70 inches and the tripod folds to 26 inches. The finish is a professional satin black. A nylon carrying bag is included. This leg set looks, operates and is assembled like a Manfrotto tripod. It is either a close copy or (more likely) made for Meopta by Manfrotto.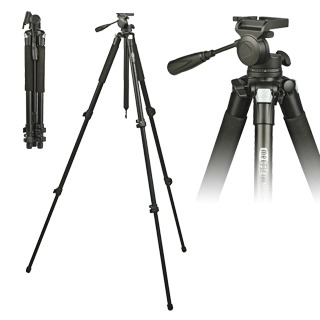 Illustration courtesy of Meopta USA, Inc.
The tripod's supplied head has fluid dampened movements in both altitude (pitch) and azimuth and there is a bubble level in the altitude plane. The mounting plate is quick detachable, using the (rectangular) Manfrotto system. It is secured in place by a spring loaded lever typical of Manfrotto style tripod heads. In addition, the scope's tripod mounting foot is designed to drop directly into the tripod head's shoe without using the supplied attachment plate, a slick touch.
The only fly in this otherwise attractive ointment is that neither the scope's mounting foot nor the supplied quick detachable plate properly fit the tripod head's shoe! They would go in, but even with the locking lever fully closed they rattled. We found that two thickness of a standard 3x5 index card would take-up the slack and made the tripod useable, but this stop-gap solution (although satisfactory for our testing purposes) would not be acceptable in the field. We can only assume that this problem is restricted to our test tripod and not typical of the units being sold to the public.
Having used Manfrotto photo tripods with quick release mounting systems for decades, we know this is not a typical issue. In fact, we have never had a problem with a Manfrotto quick release head. If this tripod is, in fact, made by Manfrotto for Meopta, we are confident this is an isolated incident.
In conclusion, the Meopta MeoPro 80 HD is a well made, high quality spotting scope with good optical performance. Its smooth contours minimize its bulk, but there is no way to conceal its weight. The big 80mm objective makes this a heavy spotting scope and dramatically increases its cost. Its benefit is improved performance in twilight conditions, a trade-off folks who consider a spotting scope their primary optic, for example bird watchers, are probably willing to accept. Those whose needs are less rigorous, such as recreational shooters who use a spotting scope as an accessory at the rifle range, will probably opt for a lighter, less expensive spotter.