CUSTOM GUNSMITHING - Repairs to Lefever and other quality double guns.
GUN FINISHING AND REFINISHING - Bluing (hot, charcoal/carbona, nitre, cold rust blue), Browning (Damascus refinishing a specialty), French Gray (known in our shop as "American Freedom Gray," popular for engraved actions), Color Case Hardening (available with a clear ceramic coating to preserve the colors for life), Metal Protection (ceramic clear, epoxy, polyurethane coats), Gold and Nickel Plating.
FIREARMS RESTORATAION - Full service gun restoration. Match original metal finish, refresh engraving and checkering, upgrading.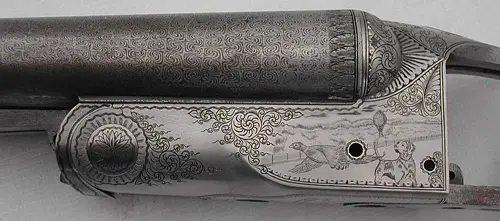 Colt double gun receiver in the white, restored with upgraded engraving by Rocky Hays. Photo by Rocky Hays.
HIGH GRADE WALNUT BLANKS - In stock, properly cured walnut blanks shaped to your specifications and fit to your gun.
CHECKERING
STOCK REFINISHING - Hand rubbed oil finish. Very durable proprietary stock finish in matte, semi-gloss, or full gloss.
LEATHER COVERED RECOIL PADS
G&S ONLINE SUPER BEARCAT STAINLESS .22 MAG. REVOLVER - Like the one reviewed by the Guns and Shooting Online staff. Just click on the title to read the review: Ruger Super Bearcat Revolver. (Use your browser's back button to return to this page.) Only $949.50 including shipping to your local FFL dealer in 49 states--not available in CA.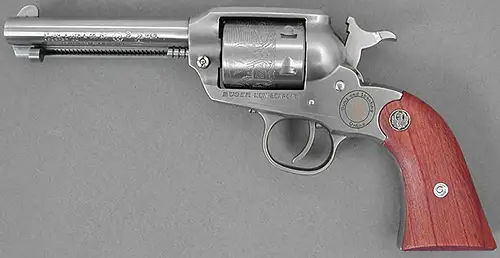 G&S Online Super Bearcat Stainless .22 Magnum revolver. Photo by Rocky Hays.
---
E-mail Rocky Hays for orders, estimates, or enquiries