Olympia EX550 Headlamp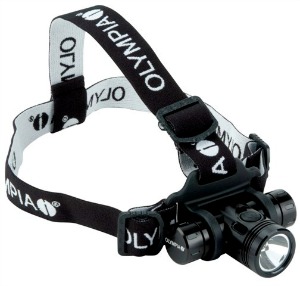 Illustration courtesy of Olympia products.
When we tested the Olympia EX230 Headlamp, we determined it was everything a hunter could ask for; well made, reliable and possessing all of the features one could want. However, that was before we got hold of the EX550. Talk about an upgrade to the ultimate. This unit has to be the most powerful and solidly built headlamp ever made for sportsmen.
The body is corrosion proof aluminum and comes with a pivoting head. A regulated circuit is used to power the light and there is a lock-out function to prevent battery drain. The unit is waterproof and impact resistant to a distance of 39 inches.
With a maximum output of 550 lumens, it really lights up an area and the all aluminum construction makes it virtually indestructible. When we gave this unit to our snake researcher daughter and son in law, they argued over who got to wear it. After five nights of use, they did everything in their power to convince us to give, sell or trade it to them.
Don't get us wrong, they still liked the EX230, but with the EX550, they could light up a broader area and even see mice scurry back into their holes. In their opinion, it was ideal to have the lead snake stalker wear the EX550 and everyone else wear the EX230. Not a bad plan.
Of course, that now presents us with a dilemma. Will Mary get the 550 or the 230? No answer to that one, yet. You will have to wait until we get back from our deer hunt in Texas to find out.
As with all Olympia flashlights/headlamps, the EX550 complies with all ANS1/NEMA FL1 standard categories, such as light output in lumens, beam distance measured in meters, runtime from 30 seconds after the light is turned on until the output decreased to 10% of initial output, impact resistance and water resistance. Most other headlamps on the market conveniently ignore the fact that their products fail to meet the latter two.
Specifications
Waterproof: IPX-7 (up to 1 meter)
Maximum Output: 550 Lumens
LED: Cree XM-L
5 light settings: Max, High, Medium, Low, Strobe
Runtime: 3.5 hrs. at 550 lumens, 4.5 hrs. at 250 lumens, 12 hrs. at 100 lumens, 60 hrs. at 25 lumens, 17 hrs. strobe
Beam distance: 135 Meters
Peak Beam Intensity: 4680 Candelas
Impact Resistance: 1 meter
Head strap color: Black
Batteries: 2 x CR123A Lithium (included)
Headlamp Dimensions: 3.03 in. W x 1.8 in. H x 2.4 in. D
Weight w/batteries: 5.4 oz. (153 g)
2014 MSRP: $69.99
As with all things, there is no free lunch. With the extra illumination comes a shorter battery life. While the EX230 will function for 10 hours on high (230 lumens) before reaching the 10% output level, the EX550 will operate for 3.5 hours at 550 lumens and 4.5 hours at 250 lumens. The good news is that you can set the EX550 for 100 lumens, which is sufficient for most folks and get 12 hours of light.
We consider the additional battery drain a reasonable trade-off, since there are situations where the extra illumination could be a lifesaver and the lock-out function on the 550 prevents inadvertent battery drain. Our recommendation is to purchase a couple of extra CR123A batteries before venturing into the field.
The EX550 is reasonably priced with an MSRP of $69.99. For activities such as night skiing, trail running, spelunking or, of course, snake researchers in the desert, this unit is ideal.