Rudy Project Eyewear Genetyk 3-lens Shooting Shield Kit
By Chuck Hawks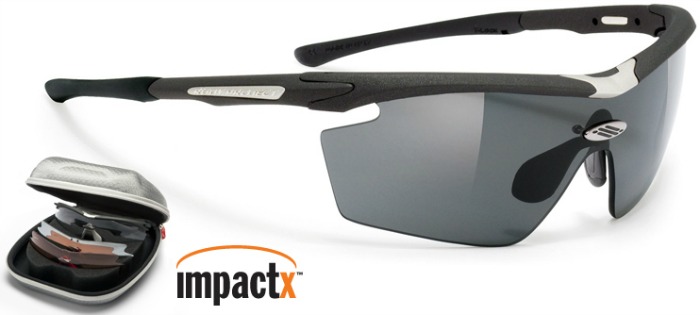 Illustration courtesy of Rudy Project, Inc.
Rudy Project has been the Italian crafters of performance eyewear since 1985. As Jim and Mary Clary wrote in their previous Guns and Shooting Online article Rudy Project Shooting Glasses:
"The Rudy Project story started in 1985 with Rudy Barbazza in Treviso, Italy. A friend convinced Rudy to make some sunglasses using the (then) new polycarbonate material for the lenses. After a bit of persuasion, Rudy agreed to take on this project, which became known as the Rudy Project. He was one of the first, if not the first, to incorporate completely new materials in his sunglasses."
Devin Johnson at Running and Cycling Enterprises (RACE is the exclusive US distributor of Rudy Project eyewear: www.runningandcyclingenterprises.com) wrote me about Rudy Project's latest breakthrough in protective lenses, ImpactX2, which is scheduled for introduction at the 2015 SHOT Show. Devin also sent me a Genetyk Lens Shooting Shield Kit for this Guns and Shooting Online review.
ImpactX2 lenses are the first in the world to automatically lighten and darken from a semitransparent tone to a specific color (red, black, brown) according to light conditions and your specific shooting requirements. They can also be crafted with your prescription by digitally surfacing the back side of the lens. Even reader and no-line bifocals can be made into ImpactX2 lenses. This new generation of unbreakable photochromic lenses has set the bar in sports optics. Compared to the previous generation of ImpactX, the new ImpactX2 lenses guarantee:
25% Faster activation
Activation in all natural light, including behind surfaces which screen UV rays, such as windows or car windshields
More Temperature Stability, by up to 20%
Increased Photochromic Range with up to 65% higher performance
Higher efficiency UV ray absorption
High Dynamic Range Filters for eye popping lens clarity and perfect visual acuity.
The Genetyk 3-lens Shooting Shield Kit sent for this review includes a stylish T-Lock, matte black frame and interchangeable Photo Clear, Photo Red and Laser Black lenses. The set is packaged in a deluxe, padded, zipper closure hard case with internal foam padded slots for the frame (with one lens mounted) and the two additional supplied lenses plus one extra lens slot. Included with the set is a cloth carry bag for the frame with mounted lens set for protection when carried in a pocket.
Rudy Project describes the Genetyk this way:
"Based on a super-light full-wrap shield design implementing Rudy Project's Quick Chang lens replacement technology - no twisting, sliding or shaking required - the Genetyk is the latest in hi-tech sporting eyewear from the company writing the book on Technically Cool. The Genetyk also features hallmark Rudy Project features like 360-degree fully adjustable temples and the similarly fully adjustable ErgoIV nosepiece for that perfect customized fit. The Genetyk is matched with the ultimate in Rudy Project's UNBREAKABLE ImpactX Photochromic lens options, as well as our high-resolution RP Optics lenses."
Genetyk Kit Features and Specifications
Part #: SP118406S3
Matte black frame
Completely adjustable nosepiece to fit any face
Safety frame hinges without any sharp edges
T-Lock anti-slip temple fastening system ensures your tips stay on at all times
Adjustable temples can be adjusted to fit any head
Quick Change Lens System to manage any light condition
ImpactX Photochromic Clear lens
ImpactX Photochromic Red lens
RPOptics Laser Black lens
100% UV absorption with all lenses
Weight: 1.1 ounces
Eye size: 134
Temple: 133
Face size: Medium to large
Country of origin: Italy
Worldwide Warranty: 2 years
USA Warranty: 3 years frame, lifetime lenses
2014 MSRP: $374.99 (Sale price $187.49)
The cutting-edge technology Photometric lenses provide enhanced visual acuity in any lighting condition. They change density within a few seconds as the light changes. The RP Optics Laser Black lens is an unchanging neutral density filter (dark sunglass type) lens.
The Photochromic Clear lens has 18-78% light transmission; lens type: color neutral. The Laser Black lens has 12% light transmission; lens type: color neutral. The Photochromic Red lens has 21-50% light transmission; lens type: color contrast. The contrast lens is intended to enhance depth perception and color.
Rudy Project ImpactX lenses are guaranteed unbreakable for life. They are 20% lighter than CR-39, 10% lighter than polycarbonate and stronger than any other lens material. They will not break or crack, even in a complex, rimless frame. They feature a superior hard coating treatment and Quartz scratch resistant, antistatic coating. Compared to polycarbonate, ImpactX has a lower refractive index, internal stress and chromatic dispersion. The result is sharper images, higher definition, reduced "rainbowing" and increased visual comfort.
Rudy Project RPOptics lenses are impact and scratch resistant. They meet or exceed the American Standard ANSI Z80.3-2010 general purpose requirements for optical quality and impact resistance, as well as Australian and European Community standards. They are impact resistant, but they are not safety glasses and do not form a shatterproof or indestructible barrier for protecting the eyes.
I have no way to scientifically test most of the Rudy Project claims for their shooting glasses and I certainly was not inclined to test the ImpactX lenses to destruction. (The good folks at RACE offered me a couple of ImpactX2 lenses for destruction testing, but I could not bring myself to destroy such fine lenses.) What I can tell you is the Genetyk shooting glasses are the best I have ever worn. To my naked Mark One eyeballs, they perform exactly as advertised.
In Western Oregon in December, as I write this review, I have little use for a heavily tinted sunglass lens, like the RPOptics Laser Black lens, since the sky is usually heavily overcast and raining. Just as well, as I have always preferred clear, color neutral, photochromic lenses, which is the type of lens in my daily wear prescription glasses. The ImpactX Photochromic Clear lens is my default choice, year around, for most shooting situations.
The pale red (in dim light) photochromic lens also darkens as the ambient light increases. It acts as a red filter, passing light from the red end of the spectrum, while reducing the amount of green and blue light that reaches the eye. This darkens green and blue objects, such as grass, foliage and the sky. It will, for example, increase the contrast between a hunter wearing a red or blaze orange coat and green vegetation.
It should be obvious that expensive shooting glasses, such as the Genetyk, deserve the same care as other fine optics. Do not touch the lens surfaces or clean them with paper towels or any wood fiber paper products or abrasive cleaners; do not wipe them off with your shirt tail, either. Clean carefully, first blowing off any dust or other particles. Wash with mild soap and warm water or Rudy Project Lens Cleaner Spray. Dry with a white, soft cotton cloth or a professional lens cleaning cloth, such as the Rudy Project High Quality Microfiber Lens Towel.
Protect your Rudy Project shooting glasses. Do not rest the lenses on a hard surface. Do not leave your glasses in direct sunlight under high temperature, as on an automobile dashboard. The included case and microfiber cloth/pouch are designed to protect your eyewear during transport and storage.
My only complaint is that, while the Genetyk Kit includes a tiny (have a magnifying glass handy) Warranty booklet with some basic information about filter categories, care and cleaning, there is no instruction manual describing how to change lenses, adjust the nosepiece, adjust the frame temples, etc. Nor could I find such information on the Rudy Project website. You are on your own. Since I have never owned glasses with any of these features, trial and error became the only recourse. Not a good situation when dealing with shooting glasses as expensive as these!
Not all shooters can afford Rudy Project shooting glasses. They are a high-tech, premium quality product costing as much as a single, medium quality riflescope. However, consider what your eyes are worth. As a shooter, you will need to keep them in good condition for your entire lifetime. You can replace a damaged riflescope, but you cannot replace your eyes.
Viewed from that perspective, the Rudy Project Genetyk Shooting Shield Kit is a solid investment. You can purchase them online at the Rudy Project consumer website: www.e-rudy.com