First Look: Smith & Wesson SW22 Victory Target Model .22 LR Pistol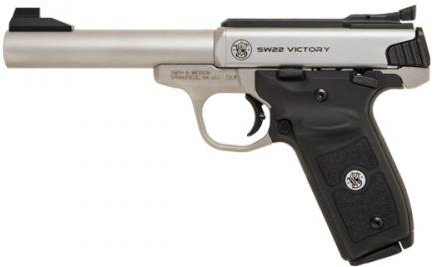 Illustration courtesy of Smith & Wesson.
A good .22 pistol is the type of handgun that everyone needs. They are handy, fun, cheap to feed, good for plinking and pest control.
There has been a decent .22 pistol in my family for as long as I remember. Back (way back) when I was five years old, the family .22 pistol was a High Standard HD. It was, and is, a fine little .22.
Later on, I decided to buy a small pail full of .22 pistols, an informal comparison for my own purposes. The winner back then, beating out the Browning Buckmark and several other models, was a Ruger 5-1/2 inch Bull Barrel target model. It is a pistol I still use today. My quibbles with the Mark II are few: a little bit of excessive take-up with the trigger and, of course, the infamous difficulty in take-down for cleaning. The latter has been addressed in the current Ruger Mark IV .22 Pistol.
The SW22 Victory was originally released in 2015 and has already gained quite a following. There are four variations, the standard Victory, Victory Target, Victory Threaded Barrel and Victory Kryptek, all of which are very similar. There are also four Performance Center models available.
Here is how Smith & Wesson's describes their Victory .22 pistol:
"The SW22 VICTORY is constructed on a single-action, enclosed hammer-fired, blowback semi-automatic design. Chambered in .22 LR, the SW22 Victory comes highly featured with innovative design qualities that include a match-grade, interchangeable barrel for superb accuracy on the range or in the field along with a simple one-screw takedown design."
Features
Target sights.
Textured polymer, target thumb rest grip panels included for both left and right hand shooters.
Standard, flat grip included to use on opposite side.
Bull barrel.
Custom polished feed ramp.
Beveled magazine well.
Target trigger with adjustable trigger stop.
Steel reinforced polymer thumb safety.
Picatinny-style rail included.
Stainless steel frame.
Two Ten-round magazines are included.
Specifications
SKU: 11536
Model: SW22 VICTORY Target Model
Caliber: .22 LR
Magazine Capacity: 10
Safety: Thumb Safety
Barrel Length: 5.5 in.
Overall Length: 9.2 in.
Front Sight: Black Blade
Rear Sight: Black Square Notch
Action: Single Action
Grip: Polymer with target thumb rest
Weight: 36.0 oz.
Barrel Material: Stainless Steel
Slide Material: Stainless Steel
Frame Material: Stainless Steel
Slide Finish: Stainless Steel
Country of Origin: USA
2018 MSRP: $429
This is the "target" model of S&W's inexpensive SW22 .22 pistol, but it is not an actual competition pistol. As a serious match pistol, it would fare poorly compared to a High Standard Target Pistol, or S&W's own Model 41.
You do get a lot of goodies with the SW Victory: adjustable Patridge type sights with a ramp mounted front sight, an included rail for mounting optical sights and an extra set of grip panels for left handed shooters. The discount retail price is very appealing, in the $350 to $375 range. It is a solid, hefty .22 pistol that feels great in the hands.
From what I can discern, this Target model offers a better trigger and a polished feed ramp over the standard, similarly specified Victory. In terms of MSRP, only $20 separates the two models. How much of a difference in triggers there may, or may not, be I cannot say.
The SW Victory trigger has a small amount of take-up and then releases crisply at about 3-3/4 pounds. This is good compared to most autoloading pistols today, but excessively heavy for a true target pistol trigger, which should be user adjustable and have zero creep in its mechanism.
Take down and field stripping is easy. Remove one hex head screw to take apart the pistol (hex key supplied). Be careful not to lose the takedown screw or the hex key. Once taken-down, the barrel is easily replaced. Two screws secure the plastic grip panels to the frame.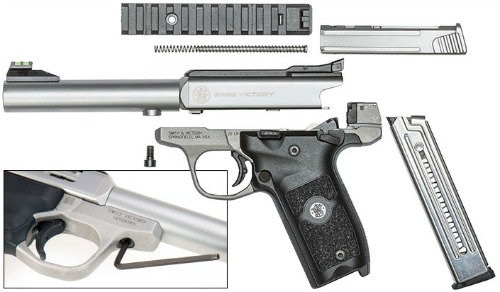 SW22 takedown. Illustration courtesy of Smith & Wesson.
The stainless steel barrel and slide wear a smooth matte finish, while the frame has a rougher "as cast" look. The cast grip frame is poorly fitted to the barrel/slide assembly. You can see the obvious gap between the two even in the photo at top of page.
This type of convenient, practical and well thought-out design is rare and difficult not to appreciate. There are already a large number of aftermarket grips, barrels, holsters and so forth for for the SW22, but out of the box it is remarkably good with nothing needed, except a good holster. The SW22 Target Model is functionally perfect, with easy take-down, excellent heft and balance.