Stone River Adjustable Focus SRG3RUSB LED Flashlight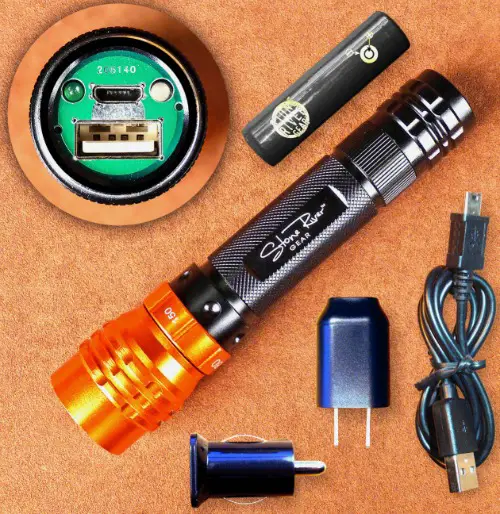 Photo courtesy of Stone River Gear, LLC.
In the past five years, the American market has been flooded with LED flashlights from Asia. Most of them are cheap junk, validating the axiom: you get what you pay for. A few companies, like Stone River, still produce only high quality flashlights. The men who own and operate Stone River are not faceless executives in some mega-corporation, but men of integrity we have known for several years. They have never asked us for anything except our honest opinion on their products. If we find a problem during a review, they want to know what it is and how we think it might be fixed; can't ask for more than that.
We check out their new products each year at the SHOT Show and select those we want to review. The Adjustable Focus USB LED Flashlight is one such product.
We have been routinely using this flashlight around the farm for the past three months and it is now our light of choice when we have to check on the animals at night. Although we haven't had the opportunity to take it into the mountains hunting, we are positive that it will perform as well or better than our previous favorite, the SRG1TAFR, also reviewed on the Guns and Shooting Online Outdoor Accessories page. That light also has a telescopic focus and 150/500 lumen beam.
As you review the features and specifications below, you will recognize that this newer Model SRG3RUSB light pretty much has it all. The telescoping focus is very smooth and the bezel mode selection is well marked, making it easy to change from one mode to another. Because most lights that use lithium batteries die without warning, the backup battery that comes with this flashlight is a welcome extra. Add in the ability to charge this unit at home or in your vehicle and you have an extremely versatile flashlight.
An important feature (and unique in our experience) is the capability to give your cell phone an emergency charge. We don't know of anyone who carries extra cell phone batteries when they venture into the field. Therefore, if your cell phone dies while you in the boondocks, you are out of touch. However, not if you have this flashlight. You can recharge your phone with enough power for emergency calls that might save your life. This feature alone is more than enough to make this flashlight a must have for all cell phone dependent outdoorsmen.
Features and Specifications
Telescopic focus adjusts beam from wide (flood) to spot beam
Machined aluminum slider head and barrel
Bezel Mode Selection: High 500 lumens; Medium 150 lumens; Low 80 lumens
Strobe feature for emergencies
Rubber Encapsulated On/Off Push Button Switch
Cree LED; 50,000 hours average LED Life
Operates on one Lithium Ion battery included; also includes one extra Lithium battery
USB Charging Cable included
2 port 12V Automobile USB and wall charging adaptor included
Emergency cell phone charge with your flashlight using USB port on back end of flashlight
Water resistant O-ring seal construction
10 year limited warranty
Length: 6-7/8 inches
Bezel diameter: 1-1/2 inches
Weight: 6 ounces with battery
MSRP: $99.95
You can purchase an SRG3RUSB from dealers or at the Stone River website: http://www.stoneriveroutdoors.com