2014 Triumph Speed Triple R
By David Tong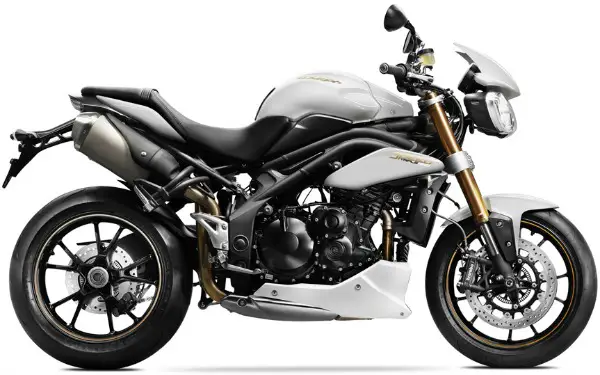 Speed Triple R Illustration courtesy of Triumph, USA.
Is too much still wonderful? I am not sure about the answer. Take the Triumph Speed Triple, for example.
Readers of my recent musings about motorcycles know of my admiration for the Triumph brand. Having once owned a 1996 Thunderbird triple, a pretty nice standard motorcycle, I have kept watch on their newer chassis and engine developments for the better part of two decades.
The Speed Triple is a play on words, based upon Edward Turner's Speed Twin of the late 1930s. The new Hinckley firm unleashed this hooligan on the public in the middle 1990s. While using the same engine design and chassis as my T-bird, the state of tune on the rotating bits was considerably higher, so the bike achieved some pride-of-place among naked performance motorcycles.
Yet, it was uncomfortably compared to the progenitor of the market, the Ducati Monster, which was a better motorcycle in terms of overall performance, style and light weight (but not reliability). Two generations later, we now have the 1,050cc Speed Triple and it is a beast.
Specifications
Type: Naked Sportbike
Engine: Three-cylinder inline, liquid-cooled, DOHC with four valves/cylinder and unit construction
Displacement: 1050cc (79mm bore x 71.4mm stroke)
Horsepower: 121.1 bhp at 9,890 RPM
Torque: 75 ft. lbs. at 6780 RPM
Fuel delivery: Digital Electronic Fuel Injection, three throttle bodies
Starting System: Electric
Transmission: Six-speed
Final Drive: X-ring chain
Chassis: Twin-tube welded aluminum spar with bolt-on seat sub-frame
Rake and Trail: 22.8 degrees, 3.5 inches
Wheel Base: 56.4 inches
Seat Height: 32.4 inches
Front Suspension: Ohlins NIX 30 upside down fork, adjustable for preload, compression and rebound damping
Rear Suspension: Ohlins TTX 30 twin tube Monoshock, adjustable for preload, compression and rebound damping
Front Brakes: Two Brembo Monobloc racing, radial mounted, four piston calipers with standard ABS
Rear Brake: Brembo two-piston caliper with standard ABS
Front Tire: 120/70X17 radial
Rear Tire: 190/50X17 radial
Fuel Capacity: 4.6 gallons
Wet Weight: 467 pounds
0-60: 2.7 seconds
1/4 mile: 10.55 seconds at 129.3 MPH
Colors: Matt Crystal White, Phantom Black
Country of Origin: UK
2014 MSRP: $14,699
As can be gleaned from even a cursory look at those specs, the Speed Triple R is one serious piece of kit. It is some 120 pounds lighter than the Company's Sprint GT sport touring bike that I reviewed, with over three inches less wheelbase.
The Sprint was hardly a dawdler during top-gear roll-ons, but taking off nearly my own weight from the bike's ready to ride avoirdupois makes the Speed Triple's acceleration brutal when the power comes on. Mind you, I am no stranger to relatively quick machinery. I have ridden or owned a Ducati Monster 900; Honda CBR900RR, 929RR, 954RR and CBR1100XX Blackbird; Kawasaki ZX-11D; Suzuki GSX-R 1000; and Yamaha R1 (several generations). Several of these are race-replicas and they all have gobs of power and torque. However, none of them have the low-end and mid-range hit of the Speed Triple.
Note especially that 0-60 sprint. This is not just muscle car territory, as inhabited by Dodge Challenger SRT or Chevy Camaro Z-28. This is hyper car territory, such as the Bugatti Veyron Super Sport or Lamborghini Aventador. Moreover, during an all-too-brief 30 mile test ride, what I noticed most was the lack of a fairing, which made the ground rushing by on either side of the gas tank rather startling. This is something from which I had been somewhat isolated in my years of riding sport touring motorcycles. It was a tad unnerving.
The Speed Triple steers as quickly as the head angle, trail and wheelbase figures suggest. It felt much like the smaller Street Triple, but power-wise it is on adrenaline, steroids, testosterone and Viagra.
I am far from a road-racer, just a relatively competent street rider. To think there are motorcycles, such as the Aprilia Tuono R, BMW S1000 RR and Ducati 1199 Monster, with even more power and torque makes me cringe. This is not to say there are not a few riders sufficiently experienced and skilled to riding them, my only questions are, "When and where?" (Probably on a closed-circuit racetrack where traffic moves in only one direction and an ambulance is standing by!)
The Speed Triple's suspension, as befitting a top-line performance product, are excellent Ohlins units. One doesn't realize the extra expense to have these installed at the factory is a relative pittance when you consider what kind of sublime function they provide in competency and compliance. Only if you have many miles of experience will you think them worth it, but indeed they are.
Racing quality brakes with advanced ABS help bring the proceedings to a safe halt on demand. The radial-mounted calipers and master cylinder, as well as the standard DOT-approved braided stainless brake lines front and rear, provide excellent feel.
Some might say other current naked bikes are now more advanced. In two important ways, this is true. The latest Speed Triple lacks multiple-throttle mapping to allow the rider to tune the throttle response for rain or track settings. Similarly, there is no traction control. The rider must compensate, as always, with self control, good judgment and right hand discretion. Be advised, this is not a motorcycle for inexperienced squids.
As with any bike with fat, upside down forks and little offset between steering stem and tubes, the bike is deficient in steering lock for riding around town. While I was fine with the seat height and riding position, those short of leg will not be, particularly at stoplights. The lack of steering lock, high center of gravity and tall seat height are not conducive to riding the Speed Triple around town. In any case, urban riding would be a waste of what the bike is designed to excel at: straightening corners and making you cackle in your helmet.
How much does this matter when shopping for an ultimate naked sport bike? All of them are wretched excess, even if they could be made somewhat comfortable for sport touring with a suitable seat and windshield installed. The Speed Triple R is quite a bit less expensive than the other competitors mentioned, holds more fuel and is probably better suspended.
The Triumph Speed Triple R will utterly smoke the majority of large displacement twins and lesser fours, let alone any car up to about 120 MPH. For certain riders, its "in your face" style and the demands placed on its rider to be circumspect in flinging it about makes it an interesting potential mount. I suspect the Speed Triple would never cease to challenge one's riding skills. However, it may be too much for me.