The Column, No. 128:
SHOT Show 2019
Attendance was down a bit at SHOT 2019, but that is relative. SHOT brings over $90 million dollars to Las Vegas and this year, the attendance was approximately 58,000. Featured were some 7,000,000 pounds of firearms and accessories. Guns & Shooting Online Contributing Editor Dr. Jim Clary was in attendance, battling back after some health challenges, while Owner/Managing Editor Chuck Hawks stayed home to sip hot chocolate. (Somebody has to do the work around here, while the Editors play in Las Vegas. -C.A.H.)
The week began with Range Day on Monday. As luck (bad) would have it, this was the windiest day of the week.
Handgun sales have been soundly beating rifle sales for many years, both from domestic production and even more stunningly when combined with imports. In 2017 alone, 3,287,842 handgun were imported into the United States. Combined with domestic production of 5.5 million or so, that's a whole lot of handguns.
The sales numbers explain why Mossberg, long a leader in long guns, wants to participate in the handgun market. To achieve this goal, Mossberg spent three years developing their new MC1sc, a sub-compact 9x19mm pistol and their idea of the ultimate concealed carry pistol. The 2019 MSRP for the standard model is a reasonable $425.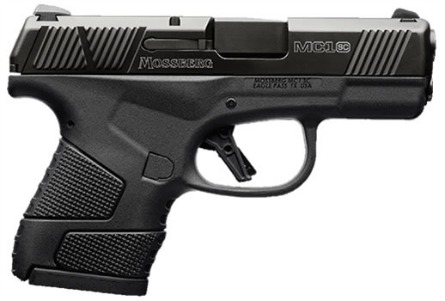 Mossberg MC1sc. Illustration courtesy of O.F Mossberg & Sons, Inc.
Here is what Mossberg says about this interesting new pistol:
"Introducing the MC1sc Subcompact 9mm Pistol by Mossberg. Combining optimal shootability with superior ergonomics, the MC1sc features an optimized grip angle for easier targeting, a flat-profile trigger for an improved pull and our exclusive Safe Takedown System: a design that does not require the user to pull the trigger during the disassembly process."
"The MC1sc was built for concealment with its slim, dehorned profile that allows for a snag-free draw. Weighing only 22 ounces fully loaded, its lightweight and durable polymer construction is perfect for everyday carry. With its grip palm swell, the MC1sc will feel natural and comfortable in your hand. Grip panels are integrated with aggressive texturing for added control."
Although more and more firearm manufacturers do mid-year releases and launch products at the annual NRA, SCI and events other than the SHOT show, there were several things that piqued my personal interest. I have already mentioned the Mossberg MC1sc that created a lot of buzz.
In the shotgun area, Remington has expanded their successful autoloading V3 line into the V3 Pro series, including the V3 Turkey Pro and the V3 Waterfowl Pro.

Remington V3 Waterfowl Pro. Illustration courtesy of Remington Arms.
Retay Arms introduced their Masai Mara with a 3-1/2 inch chamber, which I found to be surprisingly soft-shooting for an inertia gun. It was one of the most talked about shotguns at the Show.

Retay Masai Mara Camo. Illustration courtesy of Retay Arms.
Thompson/Center introduced their enhanced IMPACT!SB muzzleloader. This is a great, affordable way to get into muzzleloading hunting with a 2019 MSRP starting at $263. The original T/C Impact shot well beyond its price tag and this version, with an upgraded breech-plug and a sturdy Power Rod ramrod, make it even more appealing.

Thompson/Center IMPACT!SB muzzleloader. Illustration courtesy of Thompson/Center.
The SHOT Show has taken on a more "tactical" look and feel in recent years and this year was no exception. It is a bit of a shame, at least as far as I am concerned, for although ugly guns have their uses, I try to minimize their appearance at my place.
While no gun that does what it is supposed to do is truly horrendous, with enough thermoplastic and rough matte finishes, several guns that are brand new look like rough, semi-molten Mattel artifacts from the 1940s. Not only do look like it, they feel like it, as well.
With the specter of more attacks on the individual civil right known as the Second Amendment, I would expect a better firearms market both this year and next, spurred by panic buying.