A Custom Made Damascus Hunting Knife
By Chuck Hawks
The story of this knife starts at the 42nd annual (April 2017) Oregon Knife Show, presented by the Oregon Knife Collectors Association in Eugene, Oregon. This is the largest all knife show in the world. There are about 500 tables with displays by collectors, custom bladesmiths, knife making supplies (including sheaths) and "anything that goes cut." The knife mix is about 50% collectible and 50% handmade.

Photo courtesy of the Oregon Knife Collectors Association.
Guns and Shooting Online's Gunsmithing Editor (and also engraver) Rocky Hays, Technical Assistant Bob Fleck and I spent an enjoyable afternoon perusing the various displays, particularly the custom made knives. On one table we found an assortment of pre-finished Damascus knife blanks (except for final sharpening) by the late Guy F. Isom, who owned Shadow Mountain Forge in Idaho Falls, Idaho. Prices ranged from $50 to $200, depending on size and pattern.
(If you are interested, here is a U-Tube video showing Guy Isom making Damascus steel: https://www.youtube.com/watch?v=Cf81snMz98s Open in a new tab or new window, or use your browser's back button to return to this article.)
These hand forged Damascus blades were made from 25 alternating layers of 1095 and 15N20 steel, heat treated to 54-56 HRC. 15N20 is a Uddeholm (Swedish) high nickel content carbon steel commonly used with 1095 carbon steel to make Damascus knife blades. 15N20 is very tough (it is also used for band saw blades) and helps strengthen the blade; in addition, its high nickel content helps make the Damascus pattern stand out.
The prices for these Damascus blades seemed more than reasonable and Rocky assured us he would complete the finished knives, so all three of us purchased blanks. We also purchased various handle scale materials at another table (I chose pale ivory colored DuPont Corian) and Corby fasteners to secure the scales to the tang at a third table.
The blank I chose was a drop point design with a full flat grind to a plain edge secondary bevel. It has about a 2-1/2 inch sharpened edge. The spine and full tang are unusually thick for a knife of this blade length, about 5/32 inch. The blade's gently curved cutting edge tapers to a sharp point. Although shorter, the blade's cutting edge is similar in shape to that of my Olsen OK Hunting Knife, which is one of my all-time favorite knives.
The process of turning the blanks into finished knives took longer than Rocky had expected and, of course, he had to fit working on the knives into time available between working on customers' firearms. (Rocky swears he will make no more knives!) It was the end of September before my knife was finished, but the result is worth the wait, as can be seen from this photo.


A generally accurate depiction of the knife, although the Damascus blade pattern does not show-up well in this photo.
I think the white scales contrast very nicely with the darker Damascus blade. Notice that Rocky took the time to hand engrave a star pattern on both sides of the three Corby fasteners securing the scales to the tang. The scales themselves are thicker than average, to help provide a hand filling grip given the little knife's rather short tang.
Rocky always signs his engraving, so this knife is marked "G. Isom" on the blade and "Scales by R. Hays" on the tang. How neat to have two prestigious names on one knife!
Specifications
Blade shape: Drop point
Blade grind: Full flat to plain edge secondary bevel
Blade material: Damascus steel
Hardness: 54-56 Rockwell
Blade length: 2.5625 in. (sharpened edge)
Blade width: 0.7615 in.
Blade thickness: 0.1565 in.
Tang: Full
Scales material: DuPont Corian
Handle length: 3.409 in.
Handle thickness: 0.613 in.
Overall length: 6-5/8 in.
Weight: 3.7 oz.
Sheath: Leather, pouch type
Made in: USA
The blade size and shape is appropriate for field dressing small game and it is heavy (thick) enough for field dressing deer and other Class 2 game. I would not want to dress and quarter a bison with this knife, but it should be adequate for the animals most hunters actually hunt. In addition, it is small and light enough for comfortable carry in the field.
There were tables with all kind of sheaths at the Oregon Knife Show, so we were able to buy hand stitched leather belt sheaths for our Damascus blades on the spot, which we did. I chose a dark brown, heavy duty, saddle leather pouch sheath with a three-ply spline protecting the stitching at the cutting edge and a substantial, 2-1/2 inch belt loop. It safely retains the finished knife and fits on the belt of the fanny pack I carry hunting.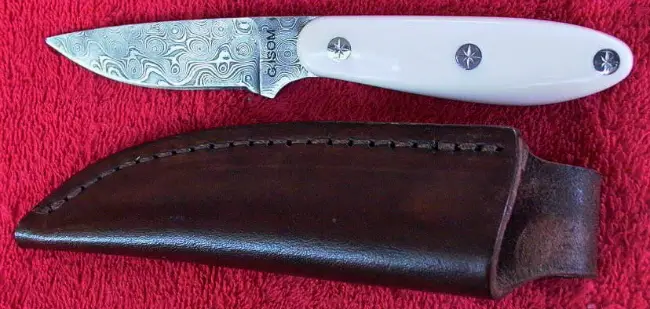 Knife w/sheath. Slight over exposure and increased contrast bring out pattern in blade, but the color is less accurate.
The blade came with the secondary bevel (edge) ground at about 20 degrees, but not finish sharpened. On Gary Zinn's sharpness scale it would have been classified Not Sharp. I corrected this by manually sharpening on a medium Arkansas stone, followed by a fine/hard Arkansas stone. (NEVER use a powered sharpener of the sort sold in big box stores on a good knife, regardless of how dull it might be.)
I finished sharpening the blade with my Lansky Master's Edge Sharpening System (crock sticks), starting with the gray sticks and ending with the very fine white sticks. A few light strokes on a butcher's steel and I judged the edge to be Very Sharp (VS). Good enough! (For a detailed explanation of how to sharpen a knife, see Gary Zinn's article Knife Sharpening 101 - The EZ Method.)
The whole sharpening process took about 15 minutes. At the end, the blade would slice through a magazine page easily and without "sawing." It would also cut very thin curls from the edge of note paper. I had no dead animals to gut, or hard pine figurines to whittle, but it adequately sliced through cardboard boxes for recycling.
Admittedly, a thick blade, such as this one, is not the best choice for breaking down boxes. What you really want is a thin blade that creates less drag as it slices through the stiff cardboard. For example, my favorite knife for the purpose is an old Western fillet knife with a 5-1/2 inch blade.
Edge retention seemed about average, or "Medium," perhaps a little better than a blade made of high carbon steel (1095 and the like). The blade is easy to touch-up to restore it to VS condition. The cutting edge of a Damascus blade tends to be a bit "toothy," presumably due to the differing wear rates of the component steels, so it keeps cutting a little better than a homogenous steel blade as it wears.
Since 1095 is a plain carbon steel, it rusts easily. This should not become a problem if the blade is cleaned and oiled, or wiped using a silicone cloth, after use. Do not store a Damascus knife, long term, in a leather sheath, as the sheath can promote rusting.
Bob, Rocky and I are very pleased with our new hunting knives. All three are similar, with minor differences in blade length, handle material and, of course, Damascus pattern. They are beautiful, but fully functional, hunting knives.