Guns and Shooting Online 2017 Awards
By the Guns and Shooting Online Staff
Time flies when you're having fun and, admittedly, being a gun writer is often fun. We get to review an array of firearms and accessories and maybe make a few bucks in the process. (At least, we hope to!) It is already September 2017 and time for the annual Guns and Shooting Online awards in the shotgun, rifle, handgun and optics categories.
We have had most of a year to appreciate the featured products and make an informed decision. Unlike most outdoor media, we do not give our annual awards to brand new and unproven products in January to attract or appease advertisers.
To receive this award, products do not have to have been introduced in 2017 or advertised on Guns and Shooting Online. They just have to be available during the current year and, of course, noteworthy in our estimation. The products below have been reviewed on Guns and Shooting Online and you can read the full review by clicking on each product awarded below.
Shotgun Award: Mossberg International SA-20 All Purpose Field

Photo courtesy of O.F. Mossberg and Sons.
No one was more surprised than we were when the Mossberg SA-20 came out on top, compared to other 20 gauge autoloaders in the recent Battle of the 20 Gauge Autoloading Shotguns, but it did just that. Not only is it the best value in a 20 gauge hunting autoloader on the market, it is the best, regardless of price.
The SA-20 has confidence inspiring, positive ejection with 7/8 ounce loads, which is something several inertia guns, as well as a goodly share of gas guns, lack. The SA-20 loads smoothly, without any of the thumb-busting for which Benelli and Franchi inertia guns are known. The SA-20's barrel extension locks up securely to the bolt, so there is no obnoxious inertia-genre bolt rattling.
The SA-20 has a nicely chromed bolt and an authentic walnut stock, not the so-called satin crate wood or fake finish fodder that is prevalent. Checkered walnut and bluing never goes out of style.
At 6-1/4 pounds, the SA-20 is the right weight. It does a good job of handling the spectrum of 7/8 ounce to 1-1/4 ounce loads without adjustment. The SA-20 comes in a nice, internally foam-padded, plastic hard case. It is supplied complete with stock adjustment shims and five Mobil-choke style choke tubes.
We cannot remember the last time a "best value" firearm turned out to be the overall best on the market, perhaps never. The blued/walnut Mossberg International SA-20 All Purpose Field is the wing shooter's screaming deal of 2017.
Rifle Award: Browning X-Bolt Medallion Safari Grade

Photo courtesy of Browning USA.
The Browning X-Bolt Medallion Safari Grade rifle is the first Browning to bear the "Safari Grade" designation in a long time. This new model was introduced in 2017 and it is the nicest X-Bolt model ever.
The Safari Grade is supplied with what Browning describes as a "Grade V/VI" walnut stock with a Monte Carlo comb, shadow line cheekpiece, rosewood fore end tip and pistol grip cap set off with brass line spacers. There is the usual Medallion grade roll stamped scroll engraving on the receiver and gold accented barrel engraving. The barreled action wears Browning's highly polished luster blue finish, as befits a high grade rifle, and the trigger is gold plated. The 24" sporter contour barrel is fluted to reduce weight and aid cooling.
Other features include the usual smooth, X-Bolt three lug, 60 degree rotation bolt, bolt unlock feature, adjustable Feather trigger and detachable rotary magazine. The butt terminates in Browning's superb Inflex recoil pad that effectively reduces felt recoil. X-Bolt Medallion Safari Grade rifles are offered in 11 calibers, from .243 Winchester to .375 H&H Magnum
X-Bolt rifles have also carried on Browning's long standing and enviable reputation for excellent accuracy, right out of the box. This Medallion Safari Grade rifle only enhances the Browning image. Our range time with the X-Bolt Safari was both fun and rewarding. Everyone wanted to take this beautiful rifle home at the conclusion of testing.
Handgun Award: Glock 40 Gen 4 MOS 10mm Auto Pistol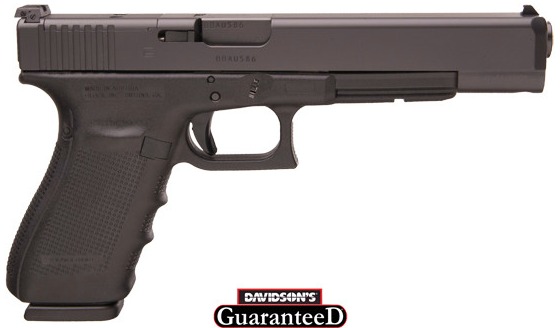 Illustration courtesy of Davidsons, inc.
The "long slide" G40 MOS (Modular Optical System) is Glock's biggest and most powerful offering, a 10mm field pistol with a six inch barrel. Not only does this Gen4 Glock have a hunting length barrel, it comes with fully adjustable Patridge type open sights. (You will need a small jeweler's screwdriver to adjust the rear sight's tiny windage and elevation screws.) The square front sight is marked with a white dot and the rear sight "U" is outlined in white. Unlike most pistols, the G40 MOS comes ready to accept optical sights.
The Glock 40 Gen4 MOS pistol is supplied with four numbered Glock MOS adaptor plates for use with optical sights. These Glock MOS adaptor plates are numbered 05 (for Docter, Meopta and Insight), 06 (for Trijicon), 07 (for C-More) and 08 (for Leupold). The screws and a Torx wrench for mounting these plates, along with mounting instructions, are included.
To take advantage of the Glock MOS system, we requested a Leupold DeltaPoint Pro prismatic red dot sight from our friends at Leupold. This is a sophisticated and very high quality little red dot sight, measuring only 1-3/4 inches long and about 1-1/4 inches high. Its base is almost exactly the width of the G40's slide (1-1/16 inches) and it weighs only 1.9 ounces with battery installed.
The Glock 40 GEN4 MOS is an exceptionally versatile autoloading pistol. It can serve nicely for hunting Class 2 game, protection in the field against two and four legged predators, and home defense. It is 100% reliable, soft shooting for a handgun of this power, easy to carry in a conventional belt holster and simple to operate and maintain. It comes with fully adjustable iron sights and is designed to accept superior red dot optical sights.
Riflescope and Optics Award: Leupold VX-3i 1.5-5x20mm Riflescope

Illustration courtesy of Leupold & Stevens, Inc.
The VX-3 (now VX-3i) series has been the backbone of Leupold's riflescope line for several years. These fine scopes are built on one-piece, one inch diameter main tubes, as one inch mounting rings are more widely available than rings for 30mm tubes. Nevertheless, they have an excellent 117 MOA windage and elevation adjustment range and the fingertip adjustment knobs are protected by metal caps. The eye box is generous, as is the eye relief (3.7" at 5x and 4.4" at 1.5x) and the mounting latitude.
These factors are often overlooked by less experienced riflescope manufacturers, but not by Leupold, where almost all of the employees are also hunters and shooters. (How can workers making riflescopes in places where the private ownership of firearms is illegal or very strictly controlled--think Red China and Europe--really understand the products they are producing?)
VX-3i scopes are designed to be extremely durable, but also lightweight. They therefore have a less detrimental affect on the balance and handling of the host rifle, which is especially important with a slender, fast handling rifle.
The VX-3i scopes essentially represent the middle of the Leupold Gold Ring riflescope line. We have probably seen more Leupold VX-3s on high grade, custom built rifles that any other riflescopes. These expensive rifles are generally ordered by very experienced, knowledgable hunters and built by the finest practitioners of the gun making art. This should tell you something.