Choosing an Exceptional Big Game Hunting Knife
By Gary Zinn
What constitutes an exceptional big game hunting knife depends on the needs and preferences of the individual hunter. What one person might consider a practically perfect knife may be scoffed at by another.
Yet, I feel an exceptional hunting knife has key characteristics that the majority of users would agree are relevant. These include the blade profile and size, the size and shape of the handle, the blade steel and, not to be overlooked, the carry system. In addition, there is the issue of fixed versus folding blades. I will discuss these considerations, plus a few related issues that pop up along the way.
Blade profiles and sizes
If a person is to carry only one knife on a big game hunt, it should have either a drop point or clip point blade. When I go deer hunting, I like to carry a knife that will do a neat and efficient job of field dressing any deer I harvest. I want the same knife to be suitable for skinning the deer and processing the meat. There are numerous knives on the market that will handle these three tasks well, and the characteristic they share is a well designed and proven drop point or clip blade.
However, a knife maker's or marketer's assertion that a particular knife sports a drop or clip point blade does not necessarily assure that it will have the versatility I just touted. One that does is the knife pictured here.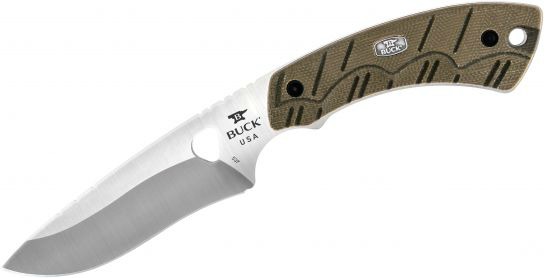 Buck Open Season Model 537 knife. Image courtesy of Buck Knives.
The Buck Model 537 Skinner knife has a drop point blade. More importantly, the blade is wide enough to have a deep belly, with considerable curve between the belly and tip, yet the point is well-defined. This blade has a shape and length (3-5/8" of sharpened edge) that will work well for field dressing, skinning and processing the big game animals that most of us hunt, such as deer, elk and other Class 2 to Class 3 game. (A longer blade might be preferable if dealing with a moose or mastodon.)
By comparison, consider the Buck Model 110 Folding Hunter Pro knife. This classic knife, with a clip point blade, is totally suitable for field dressing deer and such, and is also adequate for processing the meat, but it is not the best skinning knife in the world.
The issue is that the blade is relatively slender, so is not deep-bellied and curved between the belly and tip. Yes, the knife can be used for skinning, but if I were using a Model 110 as my primary hunting knife, I would prefer another knife, such as the Buck Omni Hunter to quickly and efficiently skin my deer after a successful hunt.
In summary, an all-purpose big game hunting knife should have a drop point or clip point blade, with enough width to provide a deep belly and considerable curve between the belly and tip. However, the blade tip should be more pointed than blunt. (The Buck Model 103 Skinner is a prototypical example of a blunt-tipped knife; it is a great skinning knife, but not well suited for field dressing or meat processing.)
Here is some data that supports my recommendation of drop or clip point blades on hunting knives. I did a filtered search for "hunting knives" on the Blade HQ website, which returned just over 1200 items. In rounded numbers, 57 percent of the 1200 knives had drop point blades and 23 percent had clip blades, leaving only 20 percent (240 items) distributed among all other blade profiles, nearly half of which were almost evenly represented by straight spined and trailing point blades.
Blade length is another important consideration. When I was young and naive, I thought that a hunting knife should be big. Accordingly, the first one I ever bought had a blade nearly five inches long. My quarry was whitetail deer and I soon learned that such a large knife was more than was necessary, or desirable, for my purposes.
In the many years that have passed since my early hunting days, I have field dressed, skinned and processed a number of deer with knives with sharpened edges sometimes no longer than about three inches. I have settled on a sharpened edge length of roughly 3-1/4" to 3-3/4" as being most suitable for an all-purpose deer hunting knife.
I would bump that up to a 3-1/2" to 4" blade for a universal big game hunting knife, reasoning that slightly longer knives may be more efficient for the hunter of the largest Class 2 and the most pursued Class 3 game, elk.
If one needs a moose and mastodon knife, something like the Case Model 385 Combination Skinner Hunter, a classic style hunting knife with a five inch clip point blade, is an example of a knife that would fill the bill.
There is nothing wrong with a hunter using a gut hook or gutting blade to open an animal for field dressing, then another knife to complete the evisceration, yet another for skinning and perhaps one or more butcher knives for processing. However, if one has a good all-purpose knife, i.e., one with a well-designed drop or clip point blade of appropriate length, then it is not necessary to haul an armful of knives to a hunting camp, or into the field.
Before moving on, I should mention blade grinds. I have used a number of hunting knives with flat and hollow ground blades, plus a few with Scandinavian grinds. All have served well. My view is that a preference for a particular blade grind may be more influenced by the tools and techniques used for sharpening than by performance in use.
Handle size and shape
A hunting knife handle should be sized and shaped to facilitate a comfortable and secure grip. It should be long enough (about four inches, or a bit more) to enable a full-fisted grip and should have enough girth to fill the hand well. Handles that are somewhat elliptical in cross section and curved to fit in the palm are much more comfortable for long, or heavy, cutting sessions than straight, slab-sided handles.
Properly shaped and sized handles also give a more secure grip when wet or slimy. I have seen too many otherwise good knives with poor handles, and I wonder why some knife designers ignore handle ergonomics. (See Knife Handle Ergonomics for a fuller discussion.)
The Buck Model 537 knife, pictured above, is an example of a knife with an exceptional handle. The saddlehorn shape fits the natural curve of the palm and it is sized right, at 4-1/2" long, 11/16" thick at the middle, with width ranging from 13/16" to 1-1/4".
In my opinion, the Buck Open Season knife handles are among the best designed handles on current production hunting knives. I also like the handles on the original Gerber Gator knives, a design also used on the new Gator Premium line.
As another general example, Scandinavian made hunting knives mostly have good handle designs. Finnish, Norwegian and Swedish knife makers have been shaping comfortable knife handles since long before the term "ergonomics" became a buzzword.
The point of these examples is that there are brands and models of hunting knives that have good handles. One does not need to settle for a knife that has a poorly designed handle.
The issue of handle materials merits brief discussion. Traditional materials used to haft hunting knives include bone or antler, wood and stacked leather disks (the latter on hidden tang fixed blade knives). All are time tested and well proven.
More recent handle materials include stabilized wood (i.e., resin infused wood, either solid or laminated), molded thermoplastics (including hard, rubber-like and glass filled), high performance synthetic materials such as G10, Micarta and carbon fiber, and metals such as aluminum and titanium. The latter three are found mainly on modern style locking folder knives.
I can live with knife handles featuring any of the materials mentioned. My personal preferences lean toward bone, wood, hard thermoplastic, Micarta, or G10 handle scales on full tang, fixed blade knives. I like rubber-like thermoplastic, or leather disk handles on hidden tang knives, and Micarta, wood, or bone scales on folders. I am also good with folding knife handles moulded from glass filled thermoplastic material, usually simply called GFN (glass filled nylon). I avoid metal handle covers, but that is just me.
Blade steel
There are over a hundred named or code-labeled steels used to make commercial knives. However, a relatively small number of these are used in the bulk of knives currently offered on the market.
I reported on this in A Brief Survey of Popular Knife Steels. Rather than repeating the survey results in detail here, I will just note that the leading steels used to make knives (ranging from lower to higher grades, or categories of blade performance) are 1095 carbon steel, AUS-8, D2, CPM-S35VN and M390. It is worth noting that 440C follows AUS-8 and 154CM almost matches D2 in popularity in their respective categories.
The point is that these seven steels, plus ten others identified in the survey, accounted for virtually one-half of the 12,000 knives included in the survey. Concerning blade performance, finding that just-right hunting knife can be as simple as shopping among those available in about a dozen and a half steels. For further segregation, one can focus on a particular grade/category of steel, ranging from common steels (1095 and other lower mid range steels) to highly refined "ultra premium" steels (M390 and similar).
Sheaths and pouches
The subject of sheaths for fixed blade knives and belt pouches for large folders does not have to be complicated. I am pretty much good with any leather or ballistic nylon sheath or pouch, as long as it is sturdy and well made. Flimsy ballistic cloth or thin leather products may be cut by the knife they are supposed to contain and leave me cold; ditto sloppy fabrication.
Concerning sheaths, some knife makers favor those with straps or flaps to secure the knife in the sheath, while others provide pouch type sheaths. Some users scorn the latter, reasoning that pouch sheaths do not hold the knife as securely as those with a strap or flap. I actually like pouch sheaths, but I want them to swallow most of the knife handle, leaving only enough exposed to grasp easily when unsheathing the knife. I believe that deep pouch sheaths, properly molded to fit the knife, are as secure as sheaths with straps or flaps.
Issues sometimes encountered with both sheaths and folding knife pouches are skimpy belt loops and small or weak snap fasteners. A sheath or pouch that has a loop that will not accommodate a field belt at least 1-1/2" wide is undesirable. Similarly, a sheath or pouch that has an undersized or weak snap is not going to give good service.
Some years ago, there was a period when plastic snaps were used on sheaths and pouches. That was a total product fail. Snaps on sheath straps or pouch flaps should be relatively large, made of suitable metal and should snap (not close with an indistinct press fit).
What I do not like are rigid thermoplastic sheaths, ranging from the Kydex sheaths that are popular with tactical knives, to the molded plastic sheaths that come with most Morakniv products. Thermoplastic sheaths may be pretty much indestructible, but they do not begin to appeal to me. Give me a quality leather or ballistic cloth sheath every time.
Fixed blade vs. folding hunting knives
I will admit to having a traditionalist bias toward fixed blade hunting knives. In my youth, the popular deer hunting knives were fixed blade designs, such as those made by Buck, Case, Marbles and Schrade. This began to change in 1962, when Buck Knives introduced the Model 110 Folding Hunter knife. The Buck Model 110 launched a new era of locking folder knife designs, leading to the dozens of brands and many hundreds of locking folder knife models that are popular today.
However, many of the locking folder knives on the market are not good hunting knives. The leading disqualifier is blade designs (e.g., the tanto) that are unsuited to hunting use.
To illustrate the point, a filtered search of "hunting knives" on the Blade HQ website returned 1200 items, including 1000 fixed blade knives and only 200 folders, with the 200 hunting folders filtered out of over 12,000 folding knives listed on the website.
Therefore, when the term "hunting knife" is mentioned, I naturally think in terms of fixed blade knives, but I hasten to say that there are brands and models of locking folders that will serve the hunter well. Just one example is the knife shown below.


Benchmade Grizzly Creek folding knife. Image courtesy of Benchmade USA.
The Grizzly Creek is one of four named locking folder knife models in the Benchmade HUNT series of fixed and folding blade knives, designed for hunters. The company builds many (I did not try to count them) models of locking folder knives, but only four make it into the hunting knife category. Other popular Benchmade models (e.g., the Griptillian and other "EDC" designs) are not really configured to be good hunting knives.
What makes the Grizzly Creek a good example of a suitable folding hunting knife? It has a 3-3/8" (length of sharpened edge) drop point blade, made of CPM-S30V steel, mounted in a 4-3/8" handle (closed length), with a 3-7/8" working length. It has a slick Axis lock and stabilized wood laminate (Dymondwood) handle scales.
I recently acquired a Grizzly Creek and will write a detailed review when I have evaluated it thoroughly. Right now, I see nothing that would make me question its suitability for hunting use, especially for deer and other Class 2 size game. If one needs an additional hook, the Grizzly Creek has one, literally. Note the gut hook that folds out of the butt of the handle.
Where is one likely to find locking folder knives that are purposely designed or otherwise highly suitable for use as hunting tools? A double filtered search (to isolate locking folder hunting knives by brand) of the Blade HQ site indicates that Browning Knives leads the way, with 22 folding hunters, followed by Buck Knives (17) and then Boker (12).
Many other brands of locking folder knives include a few items that are designated as hunting knives, or would be well suited to hunting, even if not so designated. For one example, I recently reviewed the Real Steel Knives T101 Thor Special Edition Flipper knife. I would have no qualms about taking that knife on a deer hunt.
With a 3-3/4" drop point blade and a generous sized, well shaped handle, this knife would do a good job of field dressing and processing a deer or similar game animal. The blade is not quite as deep bellied and strongly curved between the belly and tip as I would prefer for skinning, but it would suffice if a better shaped skinning blade was not at hand. Very few knives, folders or fixed blades, have a balance of attributes to do all three jobs--field dressing, skinning and processing--perfectly.
I have one no-no concerning using folding knives for hunting. As much as I like them as pocket knives, I recommend against using slip joint folders for big game hunting. My reasoning is simple and specific.
After opening and gutting an animal, one must cut around the diaphragm and, reaching as far forward as possible, cut the esophagus and windpipe, so that the organs in the chest cavity may be removed. This is a blind operation and using a slip joint knife to do it risks snagging or forcing the blade in such a way that it could fold closed onto the fingers. A locking folder or fixed blade knife is the safer way to go.
I have a totally different take on using slip joint knives to clean small game. Slip joints are my preferred knife type for the purpose. I have used Trapper and Stockman pattern pocket knives to clean rabbits and squirrels galore and recently found another pattern that I believe may be a practically perfect small game knife. See Case Saddlehorn Pocket Knife.
A note on gut hooks
A simple gut hook or gutting blade tool is a great convenience when the time comes to field dress a big game animal. I have had a skeleton-type Gerber gut hook for many years and, like my American Express card, I will not leave home without it; when I go deer hunting, that is.
The Gerber tool is no longer marketed, but the very similar Buck PacLite Model 499 gut hook is readily available. This tool takes practically no room in a hunting pack, weighs less than two ounces and can be bought for less than $20. These are very acceptable parameters for a tool that makes the opening cut in the abdomen of a game animal like working a zipper. A gut hook is also efficient at splitting the hide, along the chest and legs, when skinning.
Besides the PakLite, there is a scattering of other gut hook and gutting blade tools on the market. Shop and compare.
Some time ago, it became fashionable for knife makers to mill a gut hook onto the spine of fixed blade hunting knives. These must be popular, because they show up on selected knives of most major brands. I am not a fan, however.
Many years ago, I bought a major brand knife with a gut hook on the spine, with which I field dressed one deer: only one. The hook worked well when I made the opening cut in the abdomen, but things soon went awry. The hook, which protruded from the blade spine like a shark fin, kept catching and interfering with my cutting motion when I was working in the confines of the chest cavity, resulting in the messiest, most frustrating field dressing job I ever did.
I gifted that knife to someone whom I did not particularly like and I have never thought about buying another with a gut hook on the blade spine. One such experience was enough.
This is why I started this section by mentioning separate gut hook tools. If one really wants a gut hook built into a hunting knife, a good option is the Benchmade Grizzly Creek knife pictured above. This is, hands down, the best of a very few hunting knives with a gut hook deployed in this manner. It is a good idea.
Interchangeable blades
An intriguing variant of the locking blade folder design is knives that feature interchangeable blades, which usually include a gut hook or gutting blade. Currently, there are four notable brands/models of these, including the Buck Selector 2.0, Case XX Changer, Boker Optima and Havalon folders. All have gut hooks or gutting blades, offered either as part of the standard handle-plus-blades package, or as a separate additional piece. Anyone who is interested may comparison shop these knife packages.
The Savage Hunter's Edge folder, with interchangeable blades, used to be marketed directly through the Savage Arms Service Department. However, Savage has discontinued this item, along with the Savage Hunter's Edge Fixed Blade version.
Conclusion
Anyone shopping for a hunting knife has a wide range of choices, from no-frills economy knives to some of the highest quality production knives on the market, plus very limited production or made-to-order custom knives. Just for fun, here are three arbitrary examples that loosely indicate the range of production knives available:
Gerber Gator fixed blade knife, with a 4" drop point blade of 420HC steel; Gator Grip handle (GFN core with Santroprene rubber overmold) on hidden tang; ballistic nylon sheath; about $45 (made in U.S.A.).

Buck Open Season Model 557 Folding Skinner lock back knife, with 3.25" (sharpened edge) drop point blade of CPM-S35VN steel; Micarta handle scales on stainless steel liners; leather belt pouch; about $145 (made in U.S.A.).

Fallkniven NL5 Northern Light Idun fixed blade knife, with 4" drop point blade of laminated VG-10 steel; stacked leather disk handle on hidden tang; leather sheath; about $350 (made in Sweden).
Have I tempted you yet? Enjoy choosing your exceptional hunting knife, whether it is your first one, or the next of many you have owned.
Note: The Cutlery: Knives, Cutting and Chopping Tools index page of Guns and Shooting Online lists reviews of many specific knives, both fixed blades and folders. Some of these are hunting knives by design and others would be suitable for use as hunting tools, even though not clearly identified as such. Please browse these reviews, to see if we have reviewed a knife in which you may be interested.