Nikon Monarch3 3-12x42mm Side Focus Riflescope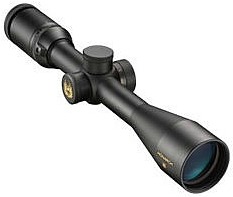 Illustration courtesy of Nikon USA
Before we get into the review of this scope it might interest everyone to learn how we obtained it. Back in 2004 (10 years ago), Mary purchased a Nikon Monarch Gold 4-12x40mm riflescope for my .300 Win. Mag. Ruger No. 1. I used the scope on that rifle for six years before transferring it to a .50 caliber Savage 10ML-II muzzleloader for my 2010 Persian Ibex hunt. As expected, the scope stood up to the recoil of both rifles with no problem. However, when I mounted the scope on Mary's CVA Accura V2 muzzleloader for her 2013 trophy deer hunt, the elevation adjustment failed. We substituted a BSA 2.5-8x36 Tactical that we had recently reviewed, which worked just fine. While on the hunt, Mary reminded me that the Nikon was supposed to have a lifetime warranty and maybe we could get them to fix it.
Being a natural born procrastinator, I didn't get around to sending the Nikon scope in for repairs until March of this year. Because I didn't have the warranty card or proof of purchase receipt, I fully expected to pay whatever repair charges were assessed by Nikon.
An email from Nikon in mid-March informed me that, unfortunately, the scope could not be repaired. Dang, there goes $400 down the drain, or so I thought. Two days later, I received another email from Nikon. They were going to replace the scope with one of equal value at no charge, because the Monarch had a lifetime warranty, despite the fact that I did not have my warranty card or proof of purchase. When Nikon says Lifetime Warranty, they mean it!
On the 14 April 2014 I received a phone call from the Nikon Sport Optics Repair department. Yep, an actual phone call from a real person. The lady informed me that they were replacing my Monarch with a Monarch3 Side Focus. I looked up the MSRP of the replacement scope and it was $439.95. I was, and still am, amazed. For those readers who think Nikon Monarch scopes are somewhat expensive; well, they are. However, given their quality and warranty, they are worth the investment.
Now for the review of our new Nikon Monarch3. Everything about this scope is first-class. It is built on a one-piece main tube with a satin black external finish and tasteful gold lettering. The fully multi-coated optics optics are bright, clear, contrasty and sharp across all magnification settings. Edge sharpness is good, as is color rendition. Flare and distortion and well controlled.
The spring-loaded 1/4 MOA click windage and elevation adjustments, range calibrated side focus knob and zoom ring are smooth in operation, yet positive in their adjustments. The eye relief is adequate for most magnum caliber rifles up to at least .375 caliber. (You would not want a 12x variable on a dangerous game rifle, anyway. -Editor.)
In fact, there is absolutely nothing left to be desired in this scope. It has it all and the one inch diameter main tube means that mounting rings are available almost everywhere. As you read through the specifications, the only change that some readers might want is a different reticle, which is available. However, the standard Nikoplex is a very good, all-around hunting reticle. The instruction manual is 226 pages long, printed in 16 different languages. That should give you an idea of the appeal and wide distribution of Nikon riflescopes.
The Guns & Shooting Online staff has previously reviewed several Nikon riflescopes, including the Prostaff Rimfire Classic 4x32, Laser IRT 4-12x42, Monarch 2x20 EER Scout Scope, Monarch African 1.1-4x24 IR, Monarch 1.5-4.5x20, Buckmaster 3-9x40, Prostaff Hunter 2-7x32 and Monarch 4-16x42 SF. Gunsmithing Editor Rocky Hays glommed onto the latter, an earlier side focus model similar to our test scope, and now we know why. We are just glad that he didn't have a chance to see our new Monarch3. Sorry Rocky, it's not for sale.
Nikon Monarch3 4-12x42mm SF Specifications
External finish - Matte black
Reticle - Nikoplex
Magnification 3x-12x
Objective bell outside diameter - 49.3 mm
Objective Lens diameter - 42 mm
Eye Relief - 3.7 - 4.0"
Parallax focus - 50 yards to infinity
Adjustment graduation - 1/4 MOA
100 yard FOV - 8.4' to 33.6'
Internal adjustment range - 60 MOA
Main tube diameter - 1"
Length - 13.1"
Weight - 18.7 ounces
Ultra ClearCoat multi-coated optics
Spring Loaded Zero-Reset Turrets
Interchangeable Turret Technology
Waterproof/Shockproof/Fogproof
Full Lifetime Warranty
Country of Origin: Philippines
2014 MSRP: $439.99
The only argument we have is who gets to keep the Monarch3 and which rifle will become its permanent home. Okay, you already know the answer to that one. It will look great on Mary's purple-thumbhole .300 Win. Mag. Ruger M77.